The Faculty

.............................................................................................................................

Director: Rekha Reddy has a Master Degree in English literature, a pre-primary Montessori diploma from AMI (Association Montessori Internationale), and Primary Montessori diploma from Indian Montessori Centre. She has around two decades of experience in Montessori field. She is an eminent teacher trainer and has conducted several workshops, seminars and orientation programs for teachers and parents throughout India. Mrs Reddy has directed two courses at Indian Institute for Montessori Studies and had the privilege of being the Chief Examiner for the Pre-primary course conducted by Indian Montessori Training Centre twice.

Mrs Rekharedy has a diploma in Counselling Skills and a Master NLP Practitioner. Mrs S. Rekha Reddy has a certificate in "Leading Schools" from IIM Kozhikode. Being inspired by Buddha's middle path and Buddhist Meditation she has attended ten days Vipassana meditation course twice in Dhammagiri at Igatpuri.

Mrs Rekharedy has authored two-three books in Kannada and one book in English one book in hindi on presenting Language following Montessori Method. Many of her articles have been published in the dailies and Montessori journals. Her translation of Dr Maria Montessori's book "What you should know about your child" has been published by Sapna Book House and has been highly acclaimed. At present Mrs Reddy is pursuing her Ph. D. in Montessori Education.

www.rekhareddy.com

---
Visiting Faculty:

Director of IIMS: Prof. Rajendra Gupta is the director of IIMS. He holds a Master of Arts degree in Education from the Century University, New Mexico. USA. He holds the Pre-primary Montessori diploma from the Indian Montessori Training Courses, and Advanced Montessori diploma from the Washington Montessori Institute, Washington D.C USA. He has twenty years of pre-primary and primary levels with the South-west Montessori Training Centre, Denton, Texas, USA. Prof. Gupta also gave orientation courses in Montessori Education at the college of St. Scholastica, Duluth, Minnesota, and at the Chicago Community College, Illinois, USA. He was an Adjunct Professor with the University Of Texas, A & I, Kings ville, Texas, USA, where he gave a pre-primary Montessori course to the Master of Education students; he has given workshops on various areas of Montessori curriculum in different cities of the USA. He has published many manuals for Montessori teachers in the areas of botany, zoology, and language, and published classroom materials on science, language, botany, zoology and history.

Co-Director: Mrs. Radha Nagaraj holds the degrees of Bachelor of Arts and Bachelor of Education. She took her pre-primary Montessori training from Mr Joosten and Mr Swamy in the year 1967-68. After that she worked for a number of years with children in Montessori classes. She has worked as an assistant with Indian Montessori Training Courses for over a decade. Mrs Nagaraj has presented papers at the seminars organized by the Indian Montessori Centre at Bangalore and at the celebration of 50 years of Montessori held at Chennai in 1989. She has been a consultant for the Shreyas Foundation School at Ahmedabad for some years. She has extended her service to several schools in Bangalore also. She contributes articles to various Montessori publications in India.

Mrs. Nandini Prakash: Mrs. Nandini Prakash has a B. Sc. degree from Bangalore University and an M. A. (English) from Mysore University. She took the pre-primary Montessori Training from the Indian Montessori Training Centre in 1990 and the primary Montessori training from Indian Institute for Montessori Studies in 1996. She has been adopting Montessori Method to the children going to regular schools.

Mrs. Shahnaz Shakeer: Mrs. Shakeer has a B.Sc. from Madras University and has taken a Diploma in pre-primary and primary training from the Indian Institute for Montessori Studies. Shahnaz has had an experience of over 3 years at Golden Bead Montessori House of Children, Bangalore.

Mrs. Rekha Babu: Rekha Babu has a B.Sc in Nutrition from Madras University. She has masters in Social work form Mysore University. She has worked for more than 15 years as a Child Development Project Officer at the Department of Women and Child Development, Government of Karnataka. She did her Pre-primary training at the Indian Montessori Training Course, Bangalore and is AMI certified. She has taken the Primary Montessori Diploma from the Indian Institute for Montessori studies, Bangalore. Rekha is the director of Ankita, a Primary Montessori School which she started in Tumkur almost 7 years ago.

Are you interested in becoming a Montessori teacher?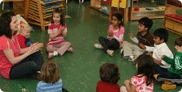 "There was no method to be seen, what was seen was a child...acting according to its own nature."
Download application form



Click on the below button to download our course application form